CISCO ASA Firewall Fundamentals – 2nd Edition
You are a few steps away from learning the Fundamental Configuration Details of one of the Best and most popular Hardware Firewalls in the market… The Cisco Adaptive Security Appliance (ASA).
PAYMENT

The trusted company

2Checkout.com, Inc.

is our authorized retailer of goods and services provided by our website and is used for your direct Credit Card payment. You can rest assured that the payment process from our website follows the highest security and confidentiality standards. Click the "BUY NOW" Button below for Secure Credit Card Payment.

Buy Now for Only $29.95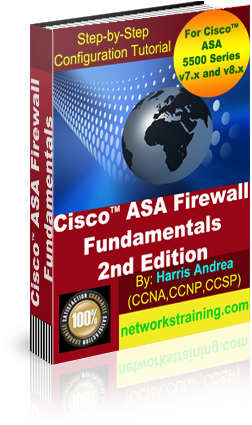 Whats Included in the eBook
| | |
| --- | --- |
| | Getting Started with Cisco Firewalls (User Interface, Access Modes) |
| | File Management |
| | Security Levels (Traffic Flow between Security Levels) |
| | Basic Firewall Configuration (Basic Configuration Steps) |
| | Configuring Network Address Translation (NAT, PAT, Static NAT, Port Redirection) |
| | Using Access Control Lists (ACLs) |
| | Controlling Inbound and Outbound Traffic with ACLs |
| | ACL Object Groups |
| | Configuring VLANs and Subinterfaces |
| | IPSEc VPNs (site-to-site VPN, Remote Access VPN, VPN client) |
| | Configuring Active/Standby Stateful Failover |
| | Configuring Advanced ASA features, AAA, Syslog, NTP etc |
| | Configuring Modular Policy Framework (TCP connection limiting, CSC, IPS, Rate Limiting etc |
| | Step by Step Configuration of AnyConnect WebVPN |
YOU GET ALSO A FREE ASA 5505 CONFIGURATION TUTORIAL
In addition to the eBook above, you get also a FREE Configuration Tutorial for the Cisco ASA 5505 Firewall with Real Configuration Examples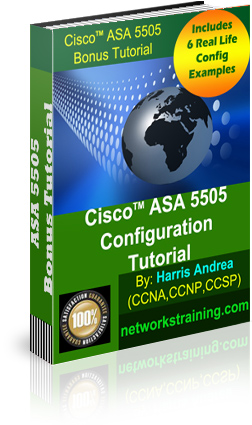 Buy Now for Only $29.95