Continuing our series of posts with the Home Network technologies, in this post I will present another application of a wired or wireless home network: Watching and managing your TV programs from your computer. The PCTV to Go device from Pinnacle can make this possible. Lets start with a diagram to make things clear.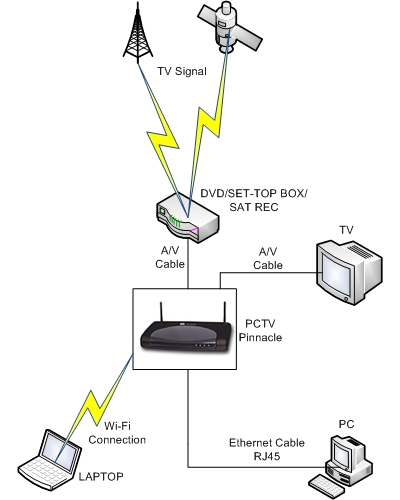 The PCTV device can serve as your central TV management station. Just plug the PCTV to any TV source (Video, Satellite, or Cable TV receiver), run the setup wizard and you are ready to watch your favorite TV programs from your PC, no matter if your are at home or from anywhere in the world via the internet.
As shown on the Home Network diagram above, the Pinnacle PCTV device connects with an A/V cable (included) with any TV source device (DVD, TV Set-top Box, Cable TV receiver, Satellite Receiver etc) and at the same time it sends the TV signal to your TV box. On the network interfaces of PCTV, you can connect either a wireless Wi-Fi device (e.g Laptop) or a wired LAN device (e.g your Home PC) to receive and enjoy the highest quality remote TV experience on your PC with full resolution DVD-like quality in MPEG-2. When away from home, Pinnacle PCTV streams your home TV across the Internet to your PC in  MPEG-4 format so you can watch all your favorite TV programs from anywhere in the world.
With the included Pinnacle Player Software, you can schedule recordings, Pause, Rewind and Play Live TV directly on your PC. Pinnacle PCTV integrates also with Windows Media Center as a TV source and its an excellent companion with Windows Vista Media Center software to unleash a powerful suite of functions. The Listed price of this product from Pinnacle website (as of August 2008) is $79.99