The driving force behind the explosion of home networks is the need for information and resource sharing. By having your computers, and other information resources, networked within your home, you have the following benefits:
Internet Connection Sharing: Multiple home users can access the Internet simultaneously.
File Sharing: Share music, files, photos etc between home computers.
Printer Sharing: Install a network printer and share it.
Home Entertainment and Multimedia Sharing: Stream music or video stored in a Network Storage Device and play them through your Multimedia Center.
Multi-player Games: Use your home LAN network to organize home game parties !!!.
Use VoIP Telephony: With Voice over IP Telephony you can easily utilize exploding Internet Telephony applications (such as Skype), use software phones, share multimedia on the phone device etc.
Use Wireless Security Cameras: You can install a wi-fi wireless IP security camera to monitor your home remotely. You can connect from the Internet (while at work for example) on your home security camera to watch whats going on inside your home.
Use Network Attached Storage: A NAS (Network Attached Storage) is a hard disk device connected to your home network for file sharing. Advanced NAS units (such as Synology and QNAP) offer also a Bit-torrent/HTTP/FTP software for downloading files directly on the hard disk without using a PC.
A typical home network topology is shown on the diagram below: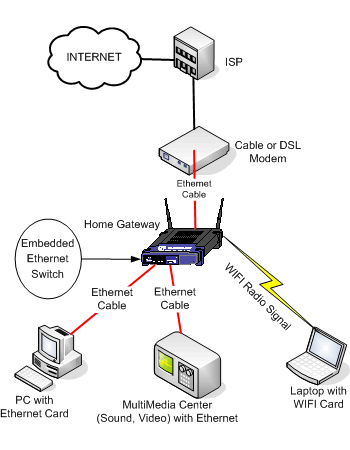 The heart of any home network is the Home Gateway router shown on the diagram. This device allows you to have a mixture of wireless and wired devices working together. All modern Home Gateways (such as the following Networking Products: Linksys, D-link, Belkin, NetGear etc) facilitate both an embedded Ethernet switch (to connect wired network Ethernet devices), and WiFi technology (to connect wireless network devices).
The home network illustrated in our diagram, allows you to share files between the PC and the Laptop computers, feed the Multimedia Center with AVI video files (stored in the PC) to be played on your TV, share the Internet through the broadband connection, connect remotely to your job office from your Laptop etc.
As you can see from the diagram, a mixture of wired and wireless devices can be installed in your home network. For more information on different home network technologies and how to configure them, visit the links below:
Suggested Home Automation and Home Networking Tutorial

The following book is an excellent tutorial for teaching you step-by-step how to setup a home network, how to automate your home and how to install security cameras and alarms for protecting your home property.